Decades of Change in Education - What Does it Look Like?
Last week, we tapped into the causes of teacher burnout and offered suggestions on how to prevent them. This week, we thought it would be nice to take a walk down memory road to see how much change has occurred since the 1980s and the state of education today.
Here is a quick description of what a classroom looked like when I was in school during the '80s and '90s:
School: 1980s-1990s
Our desks were arranged in rows with students in alphabetical order. Being that my last name begins with a "Z" I pretty much always knew I was going to be in the last row, last seat. This was something I knew I wanted to change when I became a teacher.
The chalkboard was used as the main source of communication between the teacher and the student. We loved when we would have turns to go up to the board and write with chalk, especially when teachers had those fancy plastic chalk holders.
The teacher kept not only her lesson plans but her grade book all in hard copy recording books. There was no technology insight for these tasks. Can you imagine having to compute all of those grades for each student? Yikes!
There was definitely an alphabet and number line hanging on the bulletin boards. There would be one or two other posters that didn't really have a purpose. Student artwork, which was copied from the teacher, was displayed in either the classroom or the hallway.
Art and music classes were taught by the homeroom teacher because there simply wasn't enough money or emphasis put into fine arts.
If you could memorize and follow directions, then you were going to be successful in school. However, if you didn't fit the mold, then you would have a bumpy road ahead. Another concept in education that I knew I wanted to change as an educator.
If a teacher pulled a reading group, then the rest of the class was left working on worksheets and being quiet the whole time. I can remember days when the worksheets seemed never-ending.
Impact:
This was pretty much it. Things were simple. There wasn't the technology and comparison syndrome that happens in our current system of education. You went to school, did the work, then went home and did your homework.
So has technology impacted our lives so much that it could be the root cause for our current stress levels and burnout? Or has the impact on education shifted so much that we are putting more stress on our students and teachers to succeed?
School/Teaching: 2003-2009
As structured and mundane as these memories are, I can honestly tell you that I have always wanted to be a teacher. I simply loved tapping into that part of my imagination and I would create a classroom that students would love.
Never in a million years would I have guessed that education would change so much in my almost two decades of teaching. With each passing year, the changes are evolving faster and faster which makes it difficult for most teachers to keep up.
My career started with a Compaq 64 computer that I used to create worksheets in Microsoft Word and put grades into our first-ever grading program, Easy Grade Pro. That was it.
Pinterest? No. Instagram? Nope. Teachers Pay Teachers? Never even heard of it.
In fact, grades weren't due until the end of the quarter, so we didn't really have to stress too much until progress reports and report card time. Would we follow up with parents if there was a bad test score or behavior issue? Of course, but parents were on our side so it wasn't too intimidating.
School/Teaching 2010-2015
Now, let's fast forward to about 2010-2015 when interactive boards were well underway in the classroom and students were beginning to use devices 1:1 more and more. Technology was becoming less of a class and more of an everyday experience.
Teachers now had school email addresses, parents could track grades throughout the quarter, and students were being exposed to more screen time than any other previous generation. This is where a crucial turning point in the education system begins to take place.
You see, now that our world is moving faster and faster with technology, schools have to do all that they can to stay current which means not only owning the devices and programs but also having teachers trained to implement everything. So now, on top of prepping lessons to teach, teachers have to find time to learn innovative ways to introduce concepts. Hmmm… that sounds like more time and energy.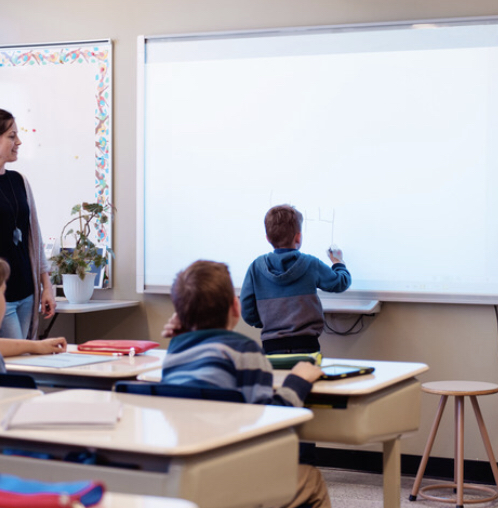 We are now living in a world where educators know that instruction cannot be one-size-fits-all for students. To answer this challenge, educators began using differentiated instruction to implement lessons. Instead of planning for one reading group, teachers are now planning for up to five different reading groups. Definitely helping to meet the needs of our students, but definitely more time and energy on the part of the teacher.
School/Teaching: 2018
We're creeping closer and closer to 2020, but we're not quite there yet. Let's stop around 2018 when teachers begin to rage over Instagram and Pinterest ideas. So now, teachers have all of their course manuals to use as resources, sites such as Teachers Pay Teachers, Instagram, and Pinterest. How in the world do we keep with it all? Where do we find the time to scour the internet to find all of these resources? This is beginning to sound like more time and more energy on the part of the teacher…yikes!
School/Teaching: 2020-2021
And now let's move into March of 2020 when everything hits the fan. The pandemic caused schools to shut down and educators to change how they teach overnight. No training. No time to prepare. In the blink of an eye, teachers were figuring out new methods to reach their students.


This was when we lost that personal connection with our students and became just another human in a box. As much as teachers tried to entertain and create engaging lessons, the annoyance of turned off cameras, students not completing work, and students not showing up to class became major issues in our education system. This took more time and far more energy.
In 2021, educators were so grateful to be back in the classroom. Teachers knew that they were going to need to help students transition to being back in the classroom, but they were ready for it. Then, one day someone decides that a hybrid approach to teaching is what is needed to address the needs of the virus still spreading. Okay, so now teachers are expected to teach in-person students as well as online students at the SAME time. Wait, what? Oh yeah, all while wearing a mask. You guessed it…more time and even more energy.
We almost forgot to mention that 2021 was also the year that schools teetered between in-person learning and shutting back down to going fully remote because of case numbers. With little notice, teachers would figure out how to make these transitions as smooth as possible for students, while putting in more time and more energy.
School/Teaching 2021-2022
And now we are in the 2021-2022 school year where everything was going to go back to "normal." Well, as we say in Cleveland, "There's always next year."
Although schools are pretty much back to in-person instruction, students and teachers are still wearing masks, isolating as much as possible, and cleaning like crazy. The impact of the missing social-emotional skills that come along with schooling is immense.
A fundamental skill for 21st-century learning and teaching is communication. Many younger students have been around adults most of their lives with few opportunities to socialize naturally with students their own ages.
Those skills of building relationships and problem-solving when an issue arises are lacking in many students. So now the task of replenishing these skills is placed on, you guessed it, teachers. Teachers are constantly searching for methods to incorporate social-emotional learning in their already busy schedules.
As most educators will tell you, reading and math will come. It is crucial that students have the time and opportunities to build their social-emotional skills without adults interfering. One of the best places for this to happen is at school through play and group activities. Students will continue to develop these skills throughout their childhood.
As educators, we are facing the backlash of students lacking these skills with not only emotional outbursts but the physical aspect as well. Many teachers are in classrooms where students will hit and kick the adult in charge if they don't get their way. This is one of the major reasons teachers are leaving the classroom. Looking back at all of education, can you ever think of a time where this has occurred? I'm betting your answer is no.
Yet, through all of this, teachers wake up each morning putting their best foot forward because they want to make a difference in the lives of their students. They love their students even on the hard days. They know that the students that are the most challenging are the ones who need them the most. If you're a teacher or serve in education in any capacity, know that you truly are a R-O-C-K S-T-A-R!
Conclusion:
So what happens now? Where do we go from here? Is this just how education is going to look like and we have to deal with it?
The truth is that the answer is up to you. You have to decide what your vision is for education and then go after it. If you know that you don't want to be a textbook/worksheet-driven teacher, then change it. Decide to be the innovative teacher that can foster reading and writing skills by creating the excitement students have about the topic you're researching.
Go a step further and look into how you can make your voice heard to the world with organizations such as UNESCO. Start pushing yourself to a forward way of thinking about education. Be cognizant of the changes that are beginning to happen and slowly decide how you can make small changes in your classroom.
Finally, decide on how your students will impact not just your school and local community, but the world in which we live. We are educating learners in a time where the world is literally at our fingertips and this is the world that these learners will forever know. You have the ability and capability to connect with others across the globe in order to truly foster 21st-century learning.
~Sneak Peek~
Hopefully, you enjoyed reading this week's post. Next week, the blog is going to discuss discipline in education. Has discipline gone away in our classrooms? What are schools to do with the out-of-control behaviors we see from students? What is the impact of discipline or lack of discipline in schools having in our world of education?
Looking for more to read…
You will want to read this if you are interested in learning more about the 4 C's to Effective 21st Century Learning.
If you're in the market for a new job, then be sure to read Are You Ready To Land Your Dream Job?


As always, please reach out to us if there is something you need or want an ear to listen. Simply send us a DM on Instagram and we will be happy to reply. We are here to serve our primary teacher friends however we can and can't tell you the joy that it brings us.
Remember, if you are a primary teacher looking for guidance or just a simple way to earn PD hours each month, then be sure to join our Lesson Plan Toolbox Community. This is such a great way to connect with other teachers and grow as an educator.
(Keep scrolling for your freebie:)
Until next week…
Teach~Relax~Repeat
Lauren
PS: If you haven't grabbed your 7 Habits For Preventing Teacher Burnout, then be sure to do so today. Feel free to share the knowledge with your teacher friends.