End Of The Year Fun For Primary Grades
This time of year the one song that runs through my head is "The Final Countdown." Anyone else? It is so incredibly hard to believe that we have made it through this school year and are just about to close the chapter on "The Year Like No Other." You DID IT! This is a triumph to the highest degree and you should truly be so proud of yourself! Now that you have just a couple of weeks left, let's find some perfect end-of-the-year lessons that will keep your students engaged and you in your happy place!
Alphabet Countdown
Our first end of the school year find comes from Jenna @paperclipsandgluesticks. She has about 30 days left of the school year, so her class will be starting an Alphabet Countdown. Each day there will be a theme based on a letter of the alphabet. For example, A is for Animal Day, B is for Book Day, etc.
Your students will have so much fun participating in each theme that the days will fly by. This is also a great chance to take some pictures so you can quickly put together an end-of-the-year slideshow. Who doesn't love it when you can double dip and save plenty of time. Here is the link to Jenna so you can be sure to check out her amazing ideas: https://www.instagram.com/paperclipsandgluesticks/
Seed Planting
Our next find comes from Lindsey @lessonsinthirdgrade. She teaches her science unit on plants at the end of the year so students can plant seeds and watch them grow during the last few weeks of school. Tomato seeds are always a good seed to try out because they grow pretty quickly. Students can also measure the growth of their plants and create comparison problems for a math component. Talk about bringing real life into the classroom.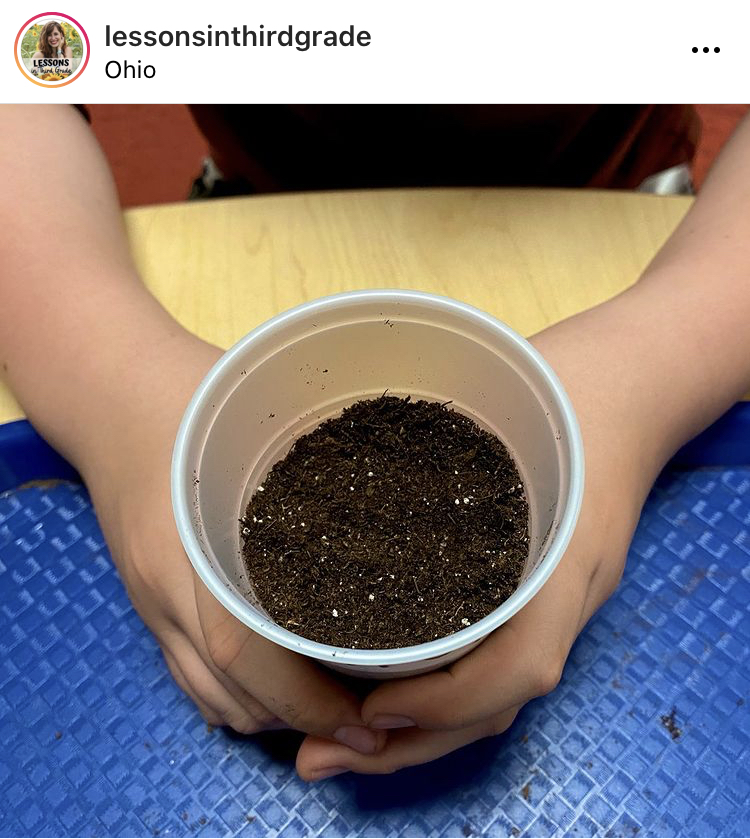 Planting seeds is always a fun experience for students. Try letting them decide what to add to help their plant growth and how much of it they will need. Students can write their "Planting Recipes" on an index card and track which plant has the most growth and why. If you have never tried a seed lesson before, go for it! It really is pretty simple to do and so much fun. Be sure to head over to give Lindsey a follow so you can find plenty of other ideas: https://www.instagram.com/lessonsinthirdgrade/
Eraser Tag
So it is the end of the year and your class is "Go Noodled" out. What is a teacher to do? We suggest trying a game of good old-fashioned Eraser Tag. The premise is very similar to Duck-Duck-Goose, but you play it with an eraser. Students gather in a circle. One student is "It" while the other student is trying to escape from being tagged. The "It" student does not have to follow the other student while that student is trying to make it back to his/her seat.
Here's where it is a little different than Duck-Duck-Goose, both students have to balance an eraser on their heads while they are moving about the circle. It is so funny to see the lengths students will go to keep that eraser on their heads. You can also choose to set a time limit such as 30 seconds. When time runs out, then both students return to their spots and two new students get to play. The timer comes in handy because you can tell your students that you are only playing so many rounds of the game and you have some control.
"Reading Rocks"
This last idea is a blast and half for students in all primary grades. Why? Because it involves paint and what student doesn't love to paint? For this activity, you will have your students create "Reading Rocks" because reading R-O-C-K-S! Paint is the main material that they will use, but you will also want googly eyes, pipe cleaners, and any other little odds and ends that you have laying around.
Simply instruct the students that they are going to use their imaginations to create a reading critter out of this rock. Tell them that by the time they are done creating, we shouldn't even be able to tell that their critter is a rock. Have fun and let your imagination do the work.
While they are busy working you can easily take this time to organize your desk or file that stack of papers that you've been meaning to file since January. This activity will keep them engaged for probably a good half hour. And here's what is even better...for those early finishers that are done in a snap, you can tell them that they can take a book and read to their reading rock in a quiet space.
You may want to take this activity a step further and send home a reading log over summer vacation. When students read to their "Reading Rock" this summer, they can record their books and maybe even their minutes. If they have a summer reading assignment that needs to be completed, then you can encourage them to read to their "Reading Rock" while they work. If you have your students make the "Reading Rocks" now, then you can get them into the habit of using their rocks while reading during the rest of the school year.
End of the Year Party
What would the end of the year be without some type of party. Keep it simple. Keep it fun. Keep it short and sweet. Here is an easy peasy recipe for having a successful "End of the Year" party with your students.
Food - Popsicle Party. During Covid popsicles are perfect because they are individually wrapped and you can usually find a good number of popsicles for not too much money.

Movement - Eraser Tag. You have the details from above with how to play and now you can do an extended version of the game. No timers, students play until someone gets tagged.

Slideshow - Take those photos from throughout the school year and put them together in iMovie for a quick and easy slideshow. Your students will probably want to watch this more than once which is a-okay.

Movie - If your school is anything like our school, then movies are a special treat. Choose an appropriate movie and have a movie afternoon. While your students watch, then you can do some work around the classroom with ease.
Conclusion:
There you have it. 5 engaging and simple ways to start winding down the school year and thinking about summertime: 1) Alphabet Countdown, 2) Seed Planting, 3) Eraser Tag, 4) Reading Rocks, 5) End of the Year Party. Both you and your students will enjoy this time without too much stress or extra work on your end.
If you can complete any of these activities outside, then go for it. Students and teachers alike love being outside this time of year. When you are outside and doing a structured activity, your administration is less likely to question anything.
If you enjoyed this post…
If you enjoyed this post, then you'll want to read about the causes and prevention of teacher burnout.
And if you haven't grabbed The 7 Habits To Avoid Teacher Burnout, then what are you waiting for? Spring is coming…you NEED this in your life.
Reminder…
We continue to support K-3 teachers, both new teachers, and veterans, on their journeys. If you are interested in joining and earning some of the EASIEST PD hours you will ever earn, then be sure to check this out. Feel free to contact us with any thoughts or questions. You can earn 60 HOURS in 1 year!
The Mission of Lesson Plan Toolbox:
Our mission at Lesson Plan Toolbox is to save K-3 teachers time and energy while providing resources and knowledge of 21st-century learning.
Teacher~Relax~Repeat
Lauren